Hall Labs is a modern-day Edison Labs
Hall Labs is a modern-day Edison Labs, with 60+ years of experience in developing, patenting and monetizing game changing technologies in the largest markets.The Hall Labs approach has its roots in the pioneering work of H Tracy Hall, the inventor of the man-made diamond, his son, David Hall and grandson Michael Hall. Throughout its history, Hall Labs has over 850 patent filings with multiple profitable exits..
Thomas Edison, America's greatest inventor who held 1,093 patents and founded and sold companies ranging from the electric light bulb to mining, stated, "Anything that won't sell, I don't want to invent. Its sale is proof of utility, and utility is success."
Disruptive technologies to benefit humanity
David Hall, Chair of the Board of Hall Labs who has more than 450 patents in his name, found inspiration in the work and life of Thomas Edison as well as his father, Dr. H. Tracy Hall. Dr. Hall was a professor of chemistry who invented the laboratory-created polycrystalline diamond used in industrial abrasives and petroleum and natural gas drilling. Dr. Hall co-founded MegaDiamond and sold it to Smith International, which was absorbed by Schlumberger.
David founded Hall Labs and patterned it after Edison Labs in Menlo Park, New Jersey, where "modern American was invented," according to the National Park Service. Hall Labs brings together a team of innovators—scientists and engineers—in a modern, state-of-the-art facility located in Provo, Utah, to tackle the world's most challenging problems ranging from ecology to personal transportation. With 60-plus years of innovative research, Hall Labs has over 850 patent filings and successfully negotiated sale of more than $450 million in business exits. Edison would have been impressed as these exits are fiscal proof of Hall Labs success.
David's vision for Hall Labs is wide ranging and focuses on finding solutions that challenge society today and into the future. At first glance, the eight current Hall Labs projects seem disparate in nature. However, upon further review, a common theme emerges–develop intellectual properties in disruptive technologies that have the potential for large, $100 million-plus exits. Hall Labs exists to invest in future-focused patentable technologies, provide financial and intellectual support to incubate, test and validate those technologies, and then harvest the rewards by seeking well-established companies to take the technologies to a wide consumer audience.
Another key component of Hall Labs is that all of the projects are aimed at improving the human condition, from ecology to sustainable living accommodations to processing waste to first-class, affordable and environmentally friendly personal transportation.
HALL LABS IP VALUE CREATION STRATEGY

Target Large Markets with Disruptive Technologies
Intellectual property rights are the legal underpinning for creating value and return on investment, and intellectual assets protecting innovation are the value drivers for most companies today.
Understand broad IP Landscape.
Patent in available gaps.
Determine different fields of use.
Engineer products based on IP.
Sell scalability and financial return on future earnings.
Core Strengths:
Broad expertise in software, networking, electronics and sensors with relevance in multiple industries/sectors
Specific expertise in mechanical, chemical and electrical engineering

7 of 8 companies operate on a common campus in Provo, UT
There are 130 total acres, nearly all contiguous
The campus provides ready access to freeway, rail, and air transportation
An 82,000 square foot headquarters is now completed, which houses the majority of businesses.
The new Hall Labs headquarters, in Provo, Utah.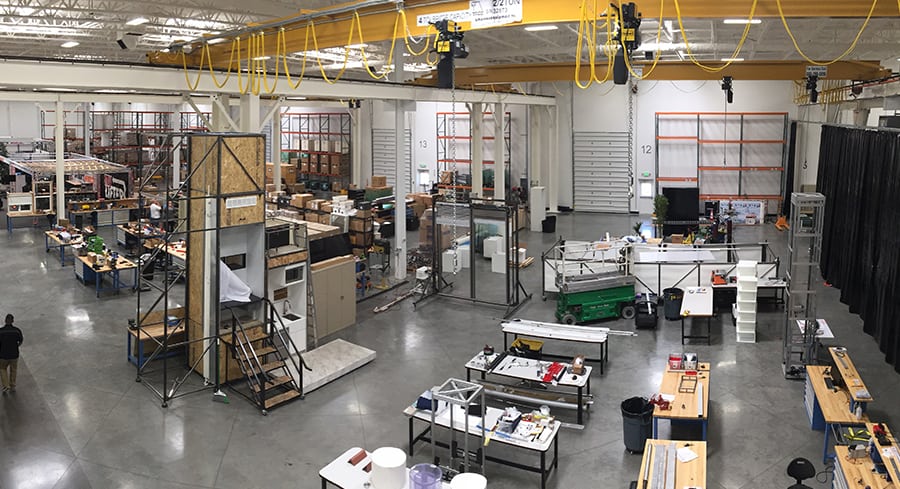 The 82,000 square foot office and work bays house 7 of the 8 companies.

Please contact us today, and we'll get back to you shortly.